So yesterday was one of those days that's going to take a long time to forget. I'll highlight my three lessons learned initially, and then expound.
1. Set two alarms on tournament day.
2. Wear shoes when fishing.
3. Execute, execute, execute.
First lesson learned - Set two alarms on tournament day
. Now, I know this was not a major tournament or anything, but I'm completely embarrassed to say that actually overslept for a tournament. I had my alarm set, and I heard it, but in a stupor I slept right thru it and thru me hitting snooze several times. I woke up 2 hours later than I had anticipated. I wanted to leave my house NLT than 4am so I could get to the ramp, relax, and shoot the breeze with everyone. Nope - I woke up on my own at my normal wake up time of 4:35. I rushed out of the house and got to the ramp at 6:15, and we were fishing by 6:35 or so. This late and rushed start set the tone of the day for everything else.
Second lesson learned - wear shoes when fishing.
We started slow in the fishing, with no real bites at our first stop. Finally, Chris got a bite, but it ended up being about 5-6lb snakehead. Sweet, we got some meat for later... Chris removed the hook from the snakes mouth and was attempting to get the trash bag open, but was struggling to do that and hold the fish at the same time. As I stepped off the front deck to grab the bag, I stepped right onto the Spro Poppin Frog in the floor of the boat. Son-of-a....!!! :Dizzy: I actually had both hooks in my foot, but 'fortunately' only one was embedded beyond the barb, and it was deep. Shown below are the steps taken to remove.
1. Get out heavy gauge cutters and snip the hook, but leave enough hook there that you can work with it by using pliers.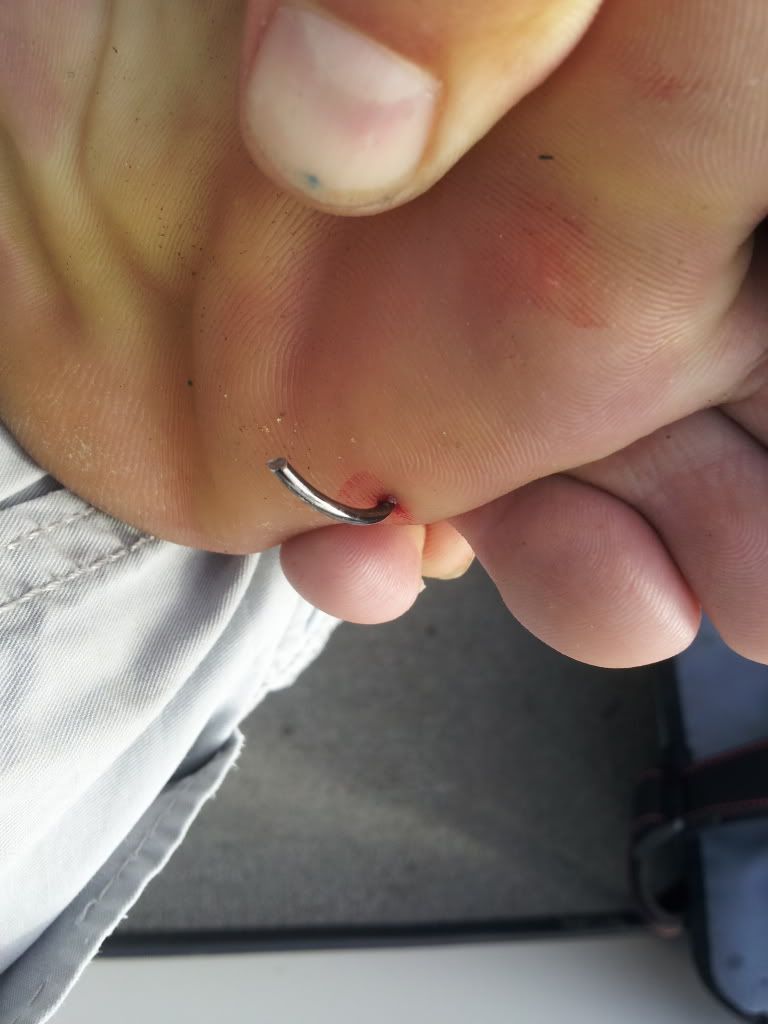 2. Ice it for a good 20-minutes to numb it up, then grunt and groan as you push the hook back thru to get the barb out. At this point, take a little breather, and re-ice before step 3.
3. Pull the big thick hook back thru the foot, ice, elevate and apply pressure....then get back to fishing.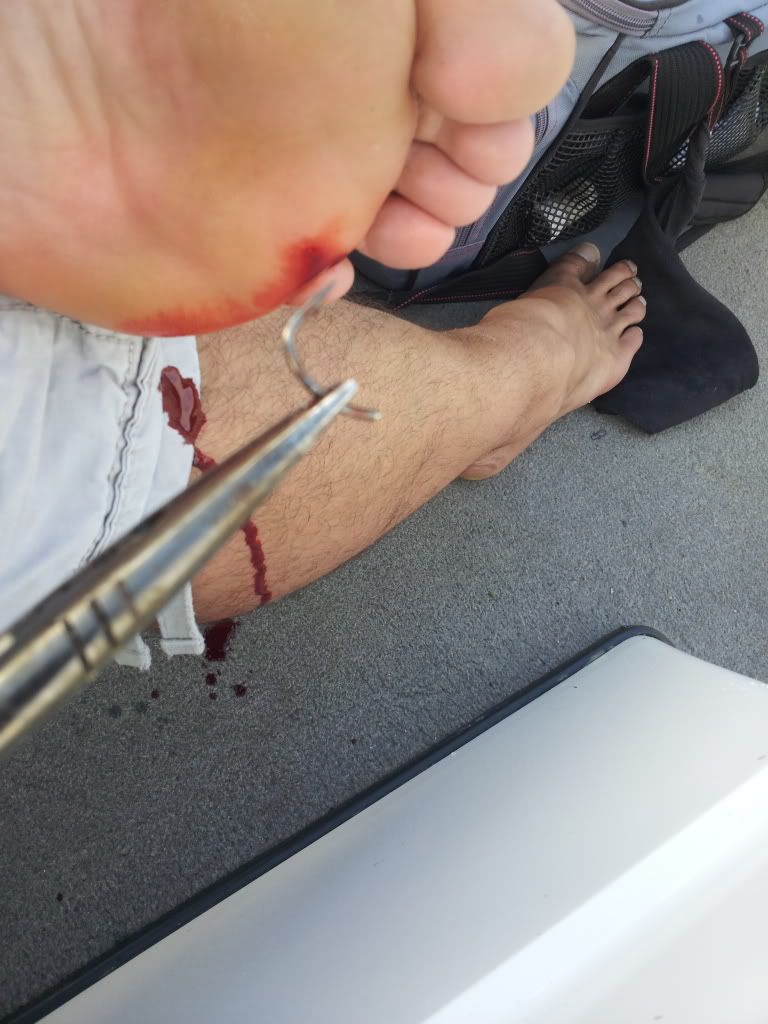 4. Make a visit to the docs to get some anti-biotics, just in case.
This was certainly not the first time I've stuck a hook in me. Word to those out there, always have some heavy duty cutters on your boat for just this situation. I've now stuck 4 hooks in me past the barb, and it's not a matter of if it happens to you, it's a matter of when. I was back up and fishing in about an hour. The longest wait time was for it to stop bleeding, but I was able to get plenty of casts off while sitting down, but no bites...and Chris managed to handle my boat and TM without breaking it. Phew!!!
Third Lesson Learned - Execute, execute, execute...
Chris and I had the bites to be in the money yesterday, and we had more than enough bites to have had a fun day. Rather, execution was seriously lacking, and especially for myself. I missed numerous bites yesterday, several of which were large and heavy. The fish were there, but I just jacked it up. Execution is key. We struggled to find lots of bites, but we did get bit and didn't get them in the boat. At 2pm we did not have a single green fish in the boat. At our last stop, I hooked a smaller fish, and lost it 2-feet from the boat. Then a few minutes later I landed our 1 and only LMB - a solid 3.75lb fish that killed the frog. I then went on to miss 2 others in the same area, one of which killed it, was heavy, but came off. That miss was 100% a hook-set issue, which I really need to work on.
In the end, lots of lessons learned yesterday. We had a great time, albeit very frustrating, and we did manage to land 4 nice snakeheads which was plenty of fun.
Here's a pic of the one and only fish we weighed.