5/9
GF and I got to the campground around 10pm on Friday and set up camp. Around 11 (I think) I headed to the pier to jig for some flounder. I ran into Jimmy out near the end and he already had a nice flounder on the planks but not much else was happening. That would be the only fish I saw out there that night, though I didn't stay long. The tide was just starting to pick up (and probably the bite) but I got an itch to chase some stripers so I left.
5/10
Got to IRI sometime after 2am, and the parking was as empty as I've ever seen it on a Friday night in May. That was both pleasing and concerning at the same time. I threw swimshads on the North Jetty until the sun started peeking out, and never had a bite or saw any fish caught. The few other anglers I talked to had the same results. Apparently the fish just haven't shown up in any numbers yet.
I don't remember what time I got up on Saturday morning, but I think the first place I went was a small tidal creek. I had wanted to fish the canal but apparently everyone else did too...it was crowded with both shore and boat anglers. So I fished bucktails and strip baits in the creek for an hour or two of the outgoing tide, and had zero bites. Things were not going well so far.
I wanted to do some togging next, so I took some shrimp down to the inlet for the last of the outgoing and beginning of incoming tide. Fished for maybe 3 hours and caught a couple TBs and one keeper that just barely made the cut. Some shad were popping in the inlet and when I left there were a lot coming over the rail. I didn't fish for them though.
Last fishing excursion on Friday was a couple hours in the surf at CHSP. I soaked bunker and clams until sunset but only had a handful of skates. They were even angrier than usual, and were snapping at me like crazy :P . It was a pleasant evening on the beach anyway.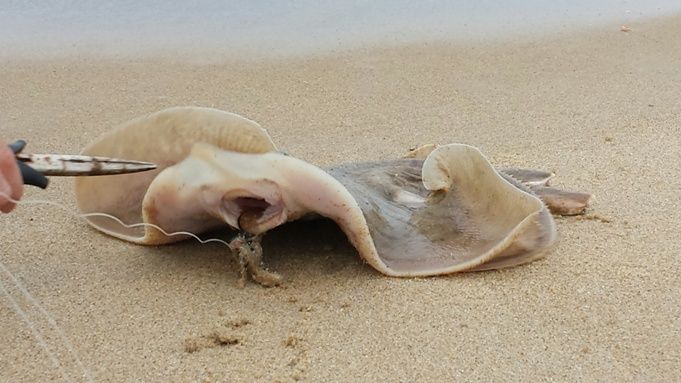 5/11
Given the total lack of action for me at IRI the previous night, I decided I should get some sleep on Saturday night rather than go fishing. Tough decision but probably a good one. My gameplan on Sunday was to wade the flats. Hadn't done this in years and I was really looking forward to it. So I got suited up and was in the water at 10am, armed with some jigs and strips of butterfish I picked up at the grocery store.
Hadn't taken 10 steps when I spooked a flounder in shin-deep water, figured that was good sign. I got my first fish after about 20 minutes, it was a keeper that took a Gulp mantis shrimp. Caught several short flounder and then picked up a small bluefish. I headed back to shore after that to cut up the blue for bait and put the flounder in the cooler.
Went right back in the water after that, I was able to go out quite a ways since the tide was so low. I caught several more flounder, including 2 keepers. After the last one, the bite died abruptly, I went an hour with no bites and then headed in for lunch.
Last stop on Sunday was at a beach on the bay. I got set up and soaked clams, chicken, and bunker. Unfortunately I only got to fish a couple hours before the breeze died and the bugs became unbearable. Caught nothing but horseshoe crabs.
5/12
Got a little sleep, then woke up at 1:30am on Monday and went to the pier to have a look. The tide was low and the bottom was carpeted with horseshoe crabs, so I didn't stay. Headed on down to IRI for one last shot at the stripers.
Pretty much the same story as last time. I fished swim shads and plugs until just about sunrise, but the only action I had was when I snagged a couple bunker. So at least there's bait in the inlet! I'm thinking the stripers should show in good numbers by next weekend, they usually show up just after I leave.
I went back to camp and slept for a couple hours, then got up around 8 to take one last shot at the flounder. The tide was way way up, the water was stained, and in 3 hours of wading I didn't have a bite.
I was out of time, so I packed up my stuff and headed home from there. Not a super weekend in terms of catching, but it was a great time anyway. I can't wait to get back.