5/8
Got to the campground and set up late Friday night, and around midnight I made it to IRI. To my surprise there weren't many cars in the North side lot. I headed out to the jetty and threw swimshads for 2 or 3 hours before I got tired and headed out. I had no bites and didn't witness any fish caught.
5/9
Saturday morning I headed to Cape Henlopen to do some kayak fishing. It was a cool, foggy morning but there were a decent number of people when I arrived and the numbers only grew as the day went on.
Kayaks, private boats, charter boats, and even headboats were all converging on the Cape to get on the bluefish bite. I've fished Cape Henlopen my whole life and never seen half as many boats as I did on Saturday. This was when I first arrived, there were waaay more than this by the time I left.
I started the day doing a little jigging alongside the pier, hoping for a flounder, but it didn't happen. After that I paddled past the fleet to try a little togging on the outside of the inner wall. I got there to find it pretty well covered up with kayakers so I only fished for half an hour or so, with no results. Paddled back in to give the bluefish a shot. I hung out in the crowd just long enough to catch one blue and then got out of there to try for flounder again.
Still no luck with the flounder though. I didn't have so much as a bite on anything I tried. I got off the water sometime in the early afternoon.
Saturday afternoon we went to a beach on the Delaware Bay to fish from the sand. There was a nice breeze from the East which was exactly what I wanted. First hour nothing happened, then I got a nice bite on a clam, and several minutes later I beached a fat black drum.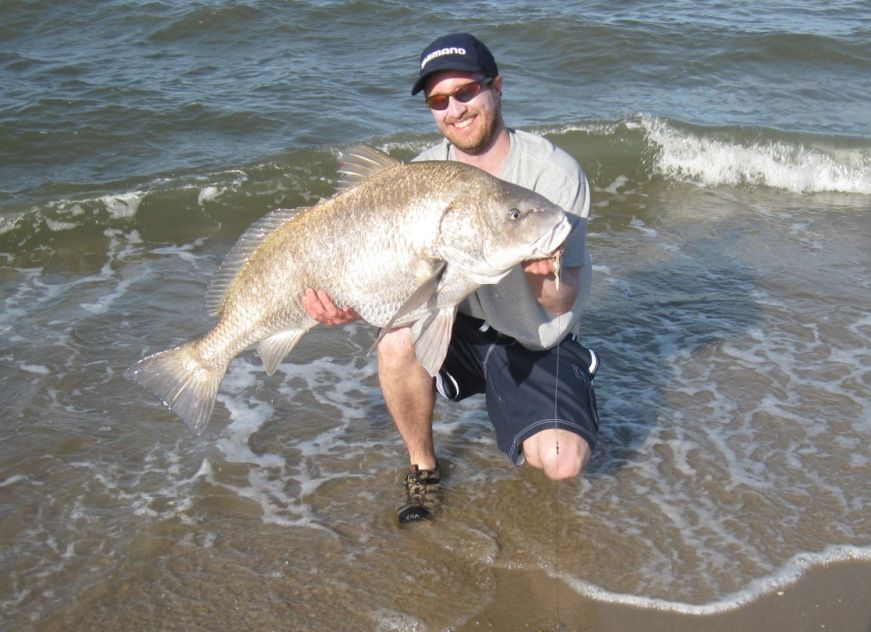 I'd guess maybe 30lbs? Fish was released after pic.
A little while later the fog rolled in and blues started biting. It wasn't a blitz, but pretty much everyone was catching some fish.
We left around 7:30pm I think. Cooked up some kabobs on the campfire and then got some sleep.
5/10
First stop on Sunday was IRI for some togging. Started out well, I caught a tog on my first 2 casts, just shy of keeper size. Thought it was gonna be a great day but over the next 3 hours I only caught 1 more tog and a couple bergals. Saw quite a few bluefish caught by shore and boat anglers but I stuck with toggin anyway.
Next stop was a tidal creek where I fished for flounder for about an hour with no luck.
Back to the beach for a few hours on Sunday evening but the wind was all wrong and there was nothing going on. Caught 1 skate and had a few other bites, including two where the line simply went slack and my whole rig was gone. Maybe bluefish swam into the line?
Sunday night I hit IRI one more time, looking for stripers. It was really slow out there and everyone I talked to seemed a little peeved about the lack of action. I gave it about 3 hours and C&R'd one bluefish of about 30", but that was the only fish I saw that night.
5/11
Monday morning I waded for flounder in the bay for a couple hours with no luck. Water was dirty and lifeless besides horseshoe crabs and conchs.
The weekend really flew by. Didn't get to fish several of my usual spots but it was a great time regardless. Hopefully I'll get back next month.