By Dr. Julie Ball, VBSF.net fishing report contributor and IGFA Representative, Virginia Beach


The saltwater summer fishing action is becoming as hot as the rising summer heat. And with great weather on the horizon for the rest of the week, expect only good things to come from both the inshore and offshore fronts.
The top news inshore is still cobia. Everybody is on the hunt for these brown-suited beasts. And they aren't hard to find right now. The folks at Ocean's East 2 report that plenty of cobia are swarming all over the lower Bay, as well as the ocean front this week. Most fish are ranging around 20 to 30-pounds, but a few larger brutes are also on the prowl. Sight casters are cleaning up, with boats spotting dozens of fish cruising in open water from the Thimble Shoal Channel to Baltimore Channel. Chummers are finding decent action in the usual hot spots off Hampton and along the Middle Ground area and Latimer Shoal near the mouth of the Bay.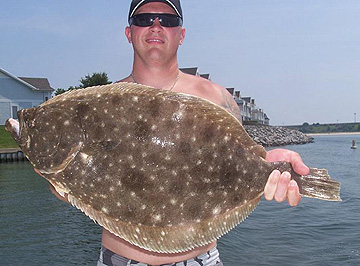 The next big draw is the rising flounder scene. With clearer water, the flatfish are on an upward trend again this week, with limits of fish pushing to around 5-pounds coming from most of the usual flounder haunts. Good action is available around all four islands of the CBBT, where anglers are having good luck with strip baits and jigging. Some nice fish are also coming from the Cell, Buoy 42, Back River Reef, and Oyster. Lynnhaven and Rudee Inlets are also giving up good numbers of flatties, with Rudee pulling ahead with a better ratio of keepers this week.

Although red drum are now overshadowed by the big cobia diversion, reds are still available along Fisherman's Island and the Nine Foot shoal areas. More red drum catches are occurring as incidental by-catches by boats targeting cobia. Several boats released reds while chumming for cobia near the mouth of the Bay this week.
Spadefish action is still on around the Chesapeake Light Tower and Tower Reef area, where a few boats took home their four-fish limits of 4 and 5-pounders this week. Spades are also available along the Chesapeake Bay Bridge Tunnel, with fish responding particularly well around the pilings near the 3rd and 4th islands lately. The sheepshead action is still picking up along the CBBT, with folks finding nice fish along the entire span on clams, crabs, and fiddlers. Nice triggerfish are making a strong showing on lower Bay structures and near shore wrecks with many fish averaging to around 3-pounds.

Croaker of all sizes are hitting all over the lower Bay, and nice sized spot are still biting inside Lynnhaven Inlet, Little Creek Inlet, and along Ocean View this week. Nicer sized roundhead are still taking bait off of Kiptopeke and within Magothy Bay.

Spanish mackerel action along the Virginia Beach ocean front is impressive right now, with boats filling their limits with big fish ranging from 18 to 24-inches. Taylor bluefish are in the mix as a by catch, as always. Small Clark and Drone spoons trolled at 5 to 6 knots are enticing strikes, with Cape Henry the hot spot lately. Once the water clears a little more along the ocean front, king mackerel should make a debut.

Tarpon are still rolling in the backwaters of the Eastern Shore, but no reports of confirmed hook ups as of yet. Amberjack are showing on wrecks and navigation towers, but the majority of the fish are ranging between 44 and 48-inches. A few larger fish over 50-inches are around, but plan to put in the time.

Deep dropping along the Canyon edges is still giving up good numbers of deep water species, such as tilefish and grouper, and by-catches of black seabass. Nice seabass are also still available on structures from about 30-miles out, and on out to deeper wrecks.

The Virginia offshore season is heating up, and the yellowfin tuna bite is the main attraction. Outstanding numbers of respectable yellowfin is the norm right now, and a few big eyes are also around. School-sized bluefin tuna are available, especially on some of the inshore lumps, where the Hotdog produced this week. The folks at the Virginia Beach Fishing Center report that more billfish are making a showing this week, with several white marlin releases ushering in a good early billfish bite.