From ESPN...

Currently the most popular new hook on the Bassmaster Elite Series trail, the Bad Mother Flipping hook is about as well-thought-out as a hook can be.
Created for anglers who like to flip using bulky baits, the BMF has a straight shank for fewer missed fish, heavy wire to prevent hook failure and a welded eye to prevent braid and other superlines from sliding out.
What really makes the hook different from all others is that, even as a straight shank, anglers can easily fish large baits, such as tubes and creatures baits, since it has a much deeper bite than most straight shank hooks.
Another innovation available on the hook is the BMF Barb, a piece of plastic that can be threaded onto the shank of the hook and heated, preventing soft baits from sliding down the shank.
The hooks, made exclusively for Reaction Innovations by Gamakatsu, are available in 3/0, 4/0 and 5/0 sizes.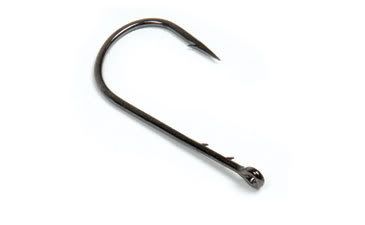 For more information, visit the company's Web site at
www.reactioninnovations.com
.