In a new installment for VA Outdoors, we have launched the Wednesday night chat and the first was relating to Potomac River grass. The goal of VA Outdoors is to provide people with some of the best fishing information for Virginia's major rivers and lakes.
Hopefully our fishing reports and chat sessions give you a lot to think about and try and I am hoping that by offering some of the basic offerings for your next trip out on the Potomac. If I can help you be more successful on the water then we hope that you will in turn help other anglers.
To order - send me a PM or email
[email protected]
and tell me the item # and the qty.
Potomac River Bait Skirts
The main thing is the skirt, we all have more jigs, spinner baits, chatter baits and buzz baits than we know what to do with. Stop buying more and buy the skirt you need for the lures you already have. And if you need more check ebay for jigs etc or a few local guys here custom pour jigs etc.
All skirts are just $1.00 or 3 for $2.75
These skirts cover the wide range of seasonal crab and crayfish color patterns along the Potomac and Upper Chesapeake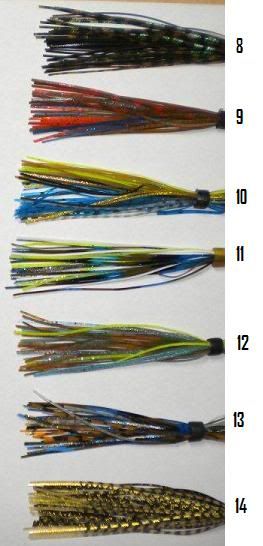 Need a whole chatterbait and not just the skirt - order any of these colors or ask to have any of the above placed on the chatterbait of your size.
Click Here ->
http://va-outdoors.com/showthread.ph...3-99-4530.html
Additional bait skirts will be added by the weekend for a complete selection...
Additional baits shipping 7/5
Money Minnow Swimbaits $7 per pack
Shadilicious Swimbaits $7 per pack
Beast Swimbait Hooks starting at $5.25 per pack
Hoping to get all Spro frogs in for $7.50 each - still working on it though
More on these when I get them in stock
PM or email with any questions - fishing is expensive enough, your baits shouldnt be.